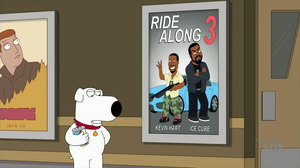 Kevin Darnell Hart (born July 6, 1979) is an American actor, comedian, writer, and producer known for his work in Ride Along and its sequel Ride Along 2, Central Intelligence, The Secret Life of Pets and Captain Underpants: The First Epic Movie.
While visiting the Quahog Theaters to see Baywatch in "The D in Apartment 23", Brian pauses long enough to make a racially insensitive tweet about the film Ride Along 3, starring Kevin Hart and Ice Cube, noting that he's white and went to college. As a result, his tweet goes viral and he emerges from his film to find an angry mob waiting for him.
The poster image is recapped in "Petey IV".
Peter and God note that Kevin and The Rock are in virtually every film in "Are You There God? It's Me, Peter".