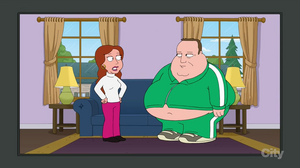 Kevin George Knipfing (born April 26, 1965), better known by his stage name, Kevin James, is an American actor, comedian, screenwriter, and producer, formerly starring in The King of Queens. He is also known for his work in the films Paul Blart: Mall Cop & Paul Blart: Mall Cop 2 and Pixels.
Peter watches a television show in "Scammed Yankees" titled Kevin James Got Too Fat to be in Movies in which the star reveals that he was kicked out for eating Adam Sandler.
The Russians mistake Peter Griffin for Kevin James in "Petey IV".