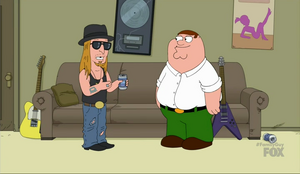 Robert James Ritchie (born January 17, 1971), known professionally as Kid Rock, is an American singer, rapper, songwriter, musician, record producer, and actor.
When Lois talks Peter into letting any potential offspring from his sperm donor to contact him in "A House Full of Peters", he notes that it feels good, just like when he was a mentor to Kid Rock.
A cutaway gag shows Kid Rock being disgusting, just as Peter taught him. Peter parts ways with him as his mentoring is complete.
Rock is voiced by Stephen Stanton.