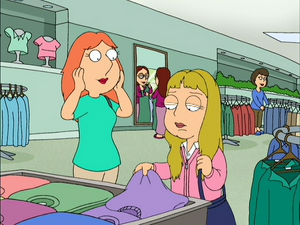 Kimberly "Kim" Richards (born September 19, 1964) is an American actress, former child actress, and television personality. She had roles in several Disney movies in the 1970s and later TV shows in the late 1970s and early 80s before returning to the screen with her sister Kyle Richards on Bravo's The Real Housewives of Beverly Hills.
Lois tells of her once exciting life in "Dammit Janet!" involving meeting Kim Richards who played Tia Malone in Escape to Witch Mountain and Return from Witch Mountain although Lois conflates the titles to Escape from Witch Mountain.
Ad blocker interference detected!
Wikia is a free-to-use site that makes money from advertising. We have a modified experience for viewers using ad blockers

Wikia is not accessible if you've made further modifications. Remove the custom ad blocker rule(s) and the page will load as expected.