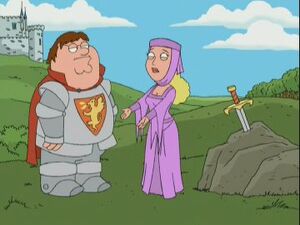 King Arthur Griffin is an ancient medieval ancestor of Peter Griffin's seen in "Jungle Love". When Guinevere offered to make love to him if he could pull Excalibur from the stone, he asked her how much he'd get of her if he gave little effort.
Ad blocker interference detected!
Wikia is a free-to-use site that makes money from advertising. We have a modified experience for viewers using ad blockers

Wikia is not accessible if you've made further modifications. Remove the custom ad blocker rule(s) and the page will load as expected.