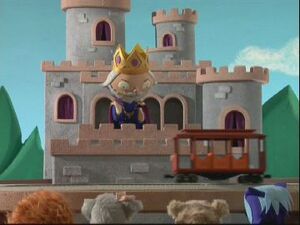 King Friday XIII is the imperious monarch of the Neighborhood of Make-Believe in Mister Rogers' Neighborhood. He is relatively egocentric, irrational, resistant to change, and temperamental, although open-minded enough to listen when told he is wrong. He has a fondness for giving long-winded speeches and using big words. Despite these qualities, he's basically a good regent, capable of summarizing the lesson he has learned after something has gone wrong.
In "No Chris Left Behind", King Friday (voiced by Stewie) questions why the King would live so close to the trolley tracks that run by the castle.
He is also seen briefly hanging in Stewie's fantasy dream in "Brian in Love".