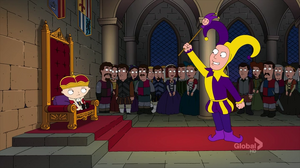 King Stewie is the subject of a cutaway gag after Stewie Griffin points out that no one likes to be publicly humiliated in "Lois Comes Out of Her Shell". When King Stewie's court jester insults him intending it to be humorous, the king hisses for him to report to his office immediately.
Ad blocker interference detected!
Wikia is a free-to-use site that makes money from advertising. We have a modified experience for viewers using ad blockers

Wikia is not accessible if you've made further modifications. Remove the custom ad blocker rule(s) and the page will load as expected.