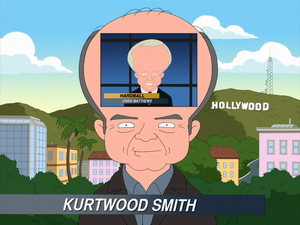 Kurtwood Larson Smith (born July 3, 1943) is an American television and film actor. He is best known for playing stern parental characters on shows such as That '70s Show, Dead Poets Society, and Worst Week. He is also known for his appearances in the genre of science fiction (Star Trek, RoboCop, The X-Files). He also starred in the seventh season of the hit action/thriller, 24.
He is interviewed by Chris Matthews on Hardball with Chris Matthews in "Dog Gone", apparently dwarfing even Matthews's head. He is voiced by Fred Tatasciore.
Ad blocker interference detected!
Wikia is a free-to-use site that makes money from advertising. We have a modified experience for viewers using ad blockers

Wikia is not accessible if you've made further modifications. Remove the custom ad blocker rule(s) and the page will load as expected.