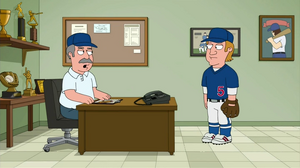 Kyle is a member of a baseball team that gets cut in "Peter's Sister".
When Peter refuses to confront his sister Karen directly, he notes that she makes him feel worse than a guy getting cut from a baseball team. In a cutaway, the manager has to let Kyle go, noting that he gets to avoid doing the "dumb, stupid" thing with them.
Ad blocker interference detected!
Wikia is a free-to-use site that makes money from advertising. We have a modified experience for viewers using ad blockers

Wikia is not accessible if you've made further modifications. Remove the custom ad blocker rule(s) and the page will load as expected.