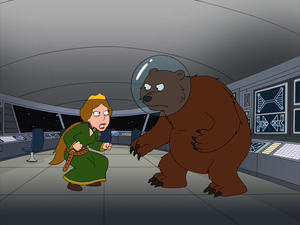 Lady Macbeth is a character in William Shakespeare's Macbeth (c.1603-1607). She is the wife to the play's antagonist, Macbeth, a Scottish nobleman. After goading him into committing regicide, she becomes Queen of Scotland, and later suffers pangs of guilt for her part in the crime. She dies off-stage in the last act, an apparent suicide.
Lady Macbeth is shown in one of Peter Griffin's cutaways in "Family Goy", wrestling a bear on a spaceship. When Lois just stares at him, Peter admits he doesn't know Shakespeare very well.
Ad blocker interference detected!
Wikia is a free-to-use site that makes money from advertising. We have a modified experience for viewers using ad blockers

Wikia is not accessible if you've made further modifications. Remove the custom ad blocker rule(s) and the page will load as expected.