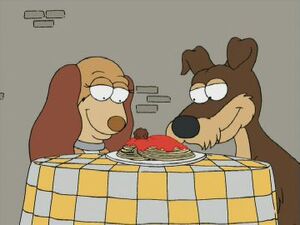 Lady and the Tramp is a 1955 American animated feature film produced by Walt Disney and released on June 22, 1955 by Buena Vista Distribution. The fifteenth animated feature in the Walt Disney Animated Classics series, it was the first animated feature filmed in the CinemaScope widescreen film process. The story centers on a female American Cocker Spaniel named Lady who lives with a refined, upper-middle-class family, and a male stray mutt called the Tramp, who fall in love.
Lady and the Tramp was parodied in "Brian: Portrait of a Dog", "I Take Thee Quagmire", where Glenn and Joan Quagmire had the spaghetti dinner, and "Stew-Roids". In the latter, Michael Vick was their co-star, interrupting their spaghetti dinner and drowning them.
External links
Ad blocker interference detected!
Wikia is a free-to-use site that makes money from advertising. We have a modified experience for viewers using ad blockers

Wikia is not accessible if you've made further modifications. Remove the custom ad blocker rule(s) and the page will load as expected.