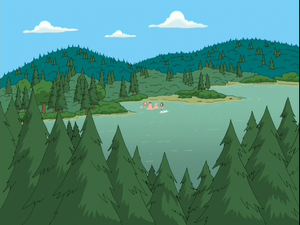 Lake Quahog is a lake near the town of Quahog, Rhode Island where Glenn Quagmire has a cabin getaway home.
In "It Takes a Village Idiot, and I Married One", it was revealed that the lake has been polluted by the waste from the Quahog Oil Refinery. It took the Griffin Family to lose their hair in it for people to take notice.
Later, after Lois Griffin becomes mayor, she has Lake Quahog cleaned up. The lake becomes polluted when Quahog Oil Refinery CEO Bob Grossbeard buys her a coat in exchange for being allowed to resume dumping in Lake Quahog.
Ad blocker interference detected!
Wikia is a free-to-use site that makes money from advertising. We have a modified experience for viewers using ad blockers

Wikia is not accessible if you've made further modifications. Remove the custom ad blocker rule(s) and the page will load as expected.