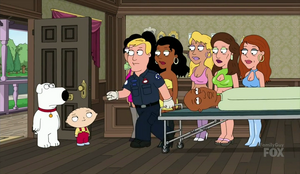 Lamar Joseph Odom (born November 6, 1979) is an American retired professional basketball player, primarily of the Los Angeles Lakers.
On October 13, 2015, Odom was hospitalized after being discovered unconscious at the Love Ranch, a brothel in Crystal, Nevada, where police believe that Lamar's brush with death was caused by an overdose of cocaine and other drugs.[1]
In "Roasted Guy", Mort jokes that Peter is so fat and stupid that Lamar Odom tried to bang him.
Lamar Odom overdoses in the bed-and-breakfast-turned-brothel run by Brian and Stewie in "The Peter Principal". As it takes an extended gurney several seconds to remove Odom from the premises, Stewie notes that he is very tall.