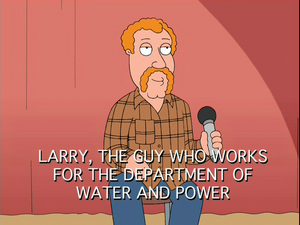 Larry, the Guy Who Works for the Department of Water and Power is a professional redneck-style comedian. He performs as part of The Redneck Comedy Tour with Stink Fleaman, Mike Drunkbeater, and Walt Abernathy. They make a stop at The Brine in Quahog, Rhode Island in "Airport '07".
Ad blocker interference detected!
Wikia is a free-to-use site that makes money from advertising. We have a modified experience for viewers using ad blockers

Wikia is not accessible if you've made further modifications. Remove the custom ad blocker rule(s) and the page will load as expected.