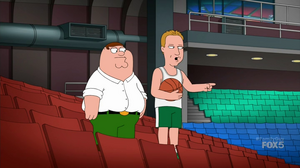 Larry Joe Bird (born December 7, 1956) is an American retired professional basketball player who played for the Boston Celtics of the NBA.
Peter sets up a cutaway when he claims he never did anything important in "Peter, Chris, & Brian" except beating Larry Bird. In a parody of commercials Bird has done over making outrageous shots in the wager for a McDonald's Big Mac, Peter wins a sandwich from Larry, but lands himself in the hospital.
in "Peter's Def Jam", the guys are excited about doing a podcast, noting that they hadn't done anything together since going bird watching. This leads to a cutaway of them "observing" Larry Bird in an interview, referring to him as the "yellow-headed puffin face" as well as describing his mating and eating habits.
Ad blocker interference detected!
Wikia is a free-to-use site that makes money from advertising. We have a modified experience for viewers using ad blockers

Wikia is not accessible if you've made further modifications. Remove the custom ad blocker rule(s) and the page will load as expected.