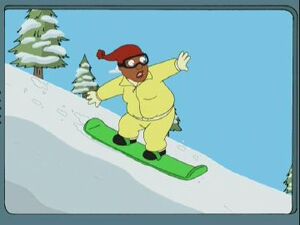 Last Holiday is a 2006 American comedy film directed by Wayne Wang and starring Queen Latifah. The screenplay by Jeffrey Price and Peter S. Seaman is an updated, gender-reversed adaptation of the 1950 film of the same name written by J. B. Priestley.
In "Airport '07", the movie is shown as in-flight entertainment. It shows Latifah on skis and falling off them. Peter Griffin, a co-pilot of the plane, asks his friends and co-pilots/co-conspirators Joe Swanson and Cleveland Brown if they can turn it off to keep it from being the last thing the passengers see if they crash. After being safely talked through the landing by Glenn Quagmire, who botched the original plan to get his job back by having sex with an airline worker, they resume watching the movie.
Ad blocker interference detected!
Wikia is a free-to-use site that makes money from advertising. We have a modified experience for viewers using ad blockers

Wikia is not accessible if you've made further modifications. Remove the custom ad blocker rule(s) and the page will load as expected.