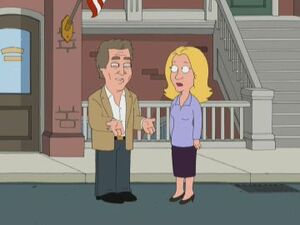 Laura Leggett Linney (born February 5, 1964) is an American actress of film, television, and theater. Linney has won three Emmy Awards, a Golden Globe, and a Screen Actors Guild Award. She has been nominated for the Academy Award three times and once for the BAFTA Award. She has also been nominated three times for a Tony Award in the category of Lead Actress in a Play. She stars in the Showtime original series, The Big C, with Oliver Platt.
In "Ocean's Three and a Half", Glenn Quagmire considers using Carter Pewterschmidt's money to make a movie with B-list stars. He imagines a trailer of Danger in Cincinnati, starring Linney and Jeff Bridges.
In "Halloween on Spooner Street", she is on the red carpet for some event, and following Scarlett Johansson, she finds no paparazzo wanting to take her picture.