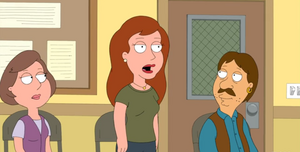 Laura Dianne Vandervoort (born September 22, 1984) is a Canadian actress known for her roles as Kara (Supergirl) in the television series Smallville and Sadie Harrison in the television series Instant Star. Since 2009, she has played Lisa on the ABC series V.
In "Friends of Peter G", she voices recovering alcoholic and Alcoholics Anonymous member Jenny.
She also voices a friend of Connie DiMico in "Trading Places".