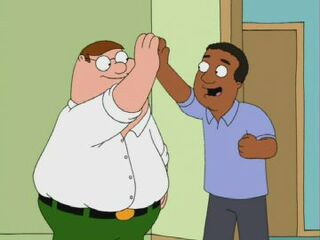 Levardis Robert Martyn Burton, Jr. (born February 16, 1957) professionally known as LeVar Burton, is an American actor, director, producer and author who first came to prominence portraying Kunta Kinte in the 1977 award-winning ABC television miniseries Roots, based on the novel by Alex Haley. He is also well known for his portrayal of Geordi La Forge on the syndicated science fiction series Star Trek: The Next Generation and as the host of the PBS children's program Reading Rainbow.
He is the voice of Verne, Peter Griffin's support man, in Petarded and appears as himself in "Not All Dogs Go To Heaven" at the convention and taken hostage by Stewie Griffin forced with his castmates to spend the day with him.
Ad blocker interference detected!
Wikia is a free-to-use site that makes money from advertising. We have a modified experience for viewers using ad blockers

Wikia is not accessible if you've made further modifications. Remove the custom ad blocker rule(s) and the page will load as expected.