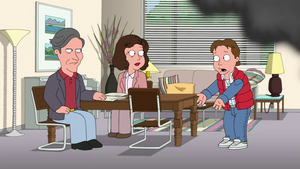 Lea Kathleen Thompson (born May 31, 1961) is an American actress, television director and television producer. She is known for performing in the Back to the Future trilogy, Caroline in the City and Switched at Birth. Other films she is known for include All the Right Moves, The Beverly Hillbillies, Howard the Duck, Red Dawn and Some Kind of Wonderful.
Lea provides the voice of Lorraine McFly in "Finders Keepers" and "#JOLO".
Ad blocker interference detected!
Wikia is a free-to-use site that makes money from advertising. We have a modified experience for viewers using ad blockers

Wikia is not accessible if you've made further modifications. Remove the custom ad blocker rule(s) and the page will load as expected.