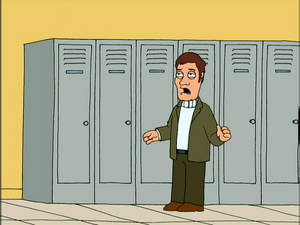 Lee Majors (born Harvey Lee Yeary on April 23, 1939) is an American television, film and voice actor, best known for his roles as Heath Barkley in the TV series The Big Valley, as Colonel Steve Austin in The Six Million Dollar Man and as Colt Seavers in The Fall Guy.
When Peter tells Chris to listen to his mother Lois after he gets in trouble at school in "Running Mates", he refers to her as "it." When she gives him a disapproving look, Peter shrugs his shoulders and notes that women are "things", and gets confirmation from Lee Majors who provides his own voice.
Ad blocker interference detected!
Wikia is a free-to-use site that makes money from advertising. We have a modified experience for viewers using ad blockers

Wikia is not accessible if you've made further modifications. Remove the custom ad blocker rule(s) and the page will load as expected.