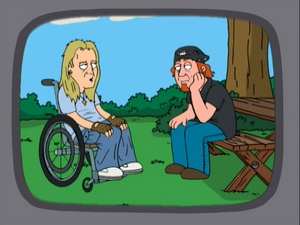 Leif Garrett (born Leif Per Nervik November 8, 1961) is an American singer and actor. He became famous in the late 1970s as a teen idol, but received much publicity in later life for his drug abuse and legal troubles.
In "The Thin White Line", Garrett guest stars as himself in an episode of Behind the Music.
Tomik and Bellgarde turn Leif into a metaphor for leaving The Drunken Clam in "The Most Interesting Man in the World".
Ad blocker interference detected!
Wikia is a free-to-use site that makes money from advertising. We have a modified experience for viewers using ad blockers

Wikia is not accessible if you've made further modifications. Remove the custom ad blocker rule(s) and the page will load as expected.