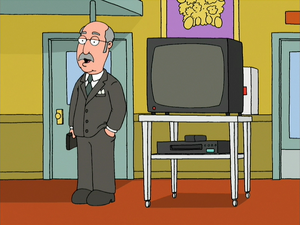 Leonard Hale is Mr. Weed's lawyer who presents a video after Mr. Weed dies in "Mr. Saturday Knight" to the employees of the Happy-Go-Lucky Toy Factory. He is forced to fast-forward through an embarrassing part of Mr. Weed in his underwear fixing breakfast until he gets to the message intended, informing the employees that the factory is being torn down to make way for the "Happy-Go-Lucky Terminal Disease Institute".
Ad blocker interference detected!
Wikia is a free-to-use site that makes money from advertising. We have a modified experience for viewers using ad blockers

Wikia is not accessible if you've made further modifications. Remove the custom ad blocker rule(s) and the page will load as expected.