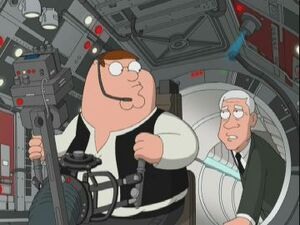 Leslie William Nielsen OC (February 11, 1926 - November 28, 2010) was a Canadian comedian and actor. Although Nielsen's acting career crosses a variety of genres in both television and films, he has achieved his greatest film success in comedies, including Airplane! and The Naked Gun series of films. His portrayal of serious characters seemingly oblivious of (and complicit in) their absurd surroundings gives Nielsen a reputation as a comedian.
During the TIE fighter attack on the Millennium Falcon in Blue Harvest, Nielsen's character, Dr. Rumack appears and says "I just wanted to say 'Good luck' and we're all counting on you". This is a reference to the 1980 comedy Airplane!. The audio of him saying it is from the movie as Nielsen was unavailable to reprise his role and the crew did not want an impersonator to read the line.
Ad blocker interference detected!
Wikia is a free-to-use site that makes money from advertising. We have a modified experience for viewers using ad blockers

Wikia is not accessible if you've made further modifications. Remove the custom ad blocker rule(s) and the page will load as expected.