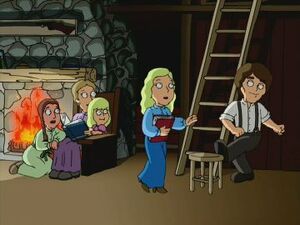 Little House on the Prairie is an American one-hour dramatic television program starring Michael Landon as Charles Ingalls, a farmer devoted to his family. It aired on the NBC network from September 11, 1974, to March 21, 1983. During the 1982-83 television season, with the departure of Michael Landon, the series was broadcast with the new title Little House: A New Beginning. A three-hour compilation special called The Little House Years was aired in 1979. (The series itself was preceded by a two-hour pilot movie that first aired on March 30, 1974).
The show was a loose adaptation of Laura Ingalls Wilder's best-selling book series.
The show has been parodied in the beginning of "Fore Father". its end credits were parodied in the end credits of Airport '07, celebrating Glenn Quagmire's re-employment.
In the song, "All I Really Want For Christmas" from "Road to the North Pole", Peter mentions that he wants to have lunch with the ghost of Michael Landon, who was the male lead of the show.
The opening sequence of "Livin' on a Prayer" is a parody of the Little House on the Prairie opening.