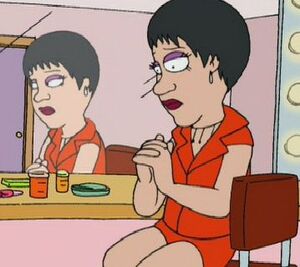 Liza May Minnelli (born March 12, 1946) is an American singer and actress. She is the daughter of entertainer Judy Garland and film director Vincente Minnelli.
She was first seen asking an M&M to help her get through a performance in "Brian: Portrait of a Dog".
She later appeared naked and extremely obese for a Playboy shoot in "No Meals on Wheels". The photographer is begging her to put her clothes back on, while she is begging for her mother's love.
Ad blocker interference detected!
Wikia is a free-to-use site that makes money from advertising. We have a modified experience for viewers using ad blockers

Wikia is not accessible if you've made further modifications. Remove the custom ad blocker rule(s) and the page will load as expected.