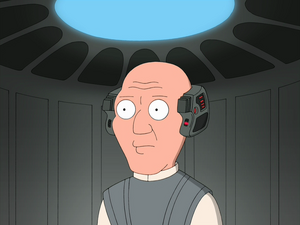 Lobot is a fictional character in the Star Wars series who is friends with, Lando Calrissian's, and is also his main cyborg assistant in the second film, The Empire Strikes Back.
He appears briefly in the parody episode Something, Something, Something, Dark Side where he and David are contacted secretly by Lando, played by Mort Goldman, to help free them from the Stormtroopers.
External links
Ad blocker interference detected!
Wikia is a free-to-use site that makes money from advertising. We have a modified experience for viewers using ad blockers

Wikia is not accessible if you've made further modifications. Remove the custom ad blocker rule(s) and the page will load as expected.