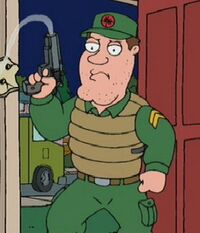 Logan is a member of the pest control team in "He's Too Sexy for His Fat". He is at first unable to function after seeing his wife and child carried off by seven million fire ants. He recovers in time to save the team from the lone flea threatening them.
Ad blocker interference detected!
Wikia is a free-to-use site that makes money from advertising. We have a modified experience for viewers using ad blockers

Wikia is not accessible if you've made further modifications. Remove the custom ad blocker rule(s) and the page will load as expected.