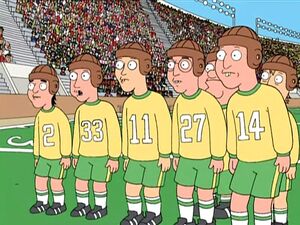 The London Sillinannies are a fictional (American-style) football team. They play their home games at Silly Nanny Stadium. After Peter Griffin was released from the New England Patriots, he joined the team in in the episode "Patriot Games". Patriots quarterback Tom Brady said they are the weakest team in all of Europe. Despite being a modern football team, they are dressed in rugby or pre-Super Bowl era American football attire. Thus, they do not appear to be a member of NFL Europe, an American football league which operated in Europe until 2007 backed by the NFL.
Ad blocker interference detected!
Wikia is a free-to-use site that makes money from advertising. We have a modified experience for viewers using ad blockers

Wikia is not accessible if you've made further modifications. Remove the custom ad blocker rule(s) and the page will load as expected.