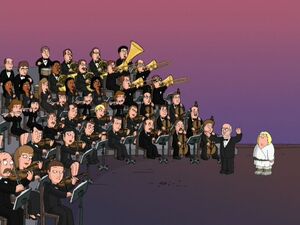 The London Symphony Orchestra (LSO) is a major orchestra of the United Kingdom, as well as one of the best-known orchestras in the world. Since 1982, the LSO has been based in London's Barbican Centre.
In Blue Harvest, they appear on Tatooine conducted by John Williams. By request, they play the theme from The People's Court. They are killed by Tusken Raiders and replaced by Danny Elfman's orchestra.
In It's A Trap!, once again conducted by Williams, they play the Entertainment Tonight tonight theme while on speederbikes through Endor.
Ad blocker interference detected!
Wikia is a free-to-use site that makes money from advertising. We have a modified experience for viewers using ad blockers

Wikia is not accessible if you've made further modifications. Remove the custom ad blocker rule(s) and the page will load as expected.