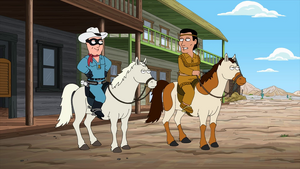 The Lone Ranger is a fictional character, a masked ex-Texas Ranger who, with his Indian companion Tonto, fights injustice in the American Old West.
When Brian claims that Peter's idea of getting sick intentionally is the worst idea ever in "Total Recall", Peter corrects him, noting that silver bullets were the worse idea ever. A cutaway gag shows the Lone Ranger's wife nagging him over the expense of the silver bullets.
After bringing the bad guys to justice in "Fighting Irish", the Lone Ranger invites Tonto out for drinks to celebrate but is turned down, with Tonto noting that he doesn't like hanging out with people from work.
The Lone Ranger is voiced by John Viener.
Ad blocker interference detected!
Wikia is a free-to-use site that makes money from advertising. We have a modified experience for viewers using ad blockers

Wikia is not accessible if you've made further modifications. Remove the custom ad blocker rule(s) and the page will load as expected.