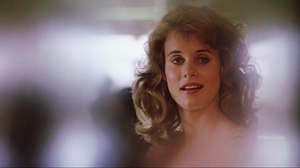 Lori Singer (born November 6, 1957) is an American actress and cellist. She is perhaps best known for her role as Ariel Moore in the 1984 film version of Footloose, and as Julie Miller in the television series Fame.
When Peter explains to Jerome that he channels his anger by dancing like Footloose in "Baby Got Black", an image of Lori appears during his routine.
Ad blocker interference detected!
Wikia is a free-to-use site that makes money from advertising. We have a modified experience for viewers using ad blockers

Wikia is not accessible if you've made further modifications. Remove the custom ad blocker rule(s) and the page will load as expected.