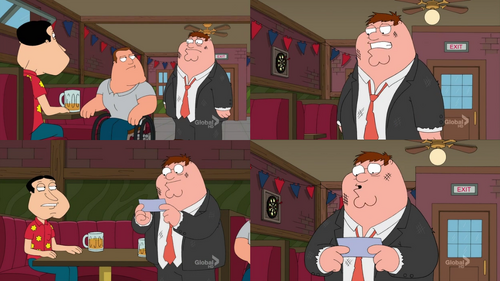 Near the end of the episode, Joe and Quagmire are shown sitting at a booth inside the bar with Joe pulled up to the corner of the booth. As Peter apologizes to them, Joe is no longer seen next to him. As Peter takes Quagmire's check, a part of Joe is seen sitting in the next booth. In the scene after, he disappears again.
Before the Russian waiter takes their beer glasses, it was about half full, but when he takes them away, they are empty.
Ad blocker interference detected!
Wikia is a free-to-use site that makes money from advertising. We have a modified experience for viewers using ad blockers

Wikia is not accessible if you've made further modifications. Remove the custom ad blocker rule(s) and the page will load as expected.