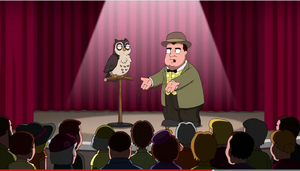 Louis Francis Cristillo (March 6, 1906 – March 3, 1959), known by the stage name Lou Costello, was an American actor and comedian best remembered for the comedy double act of Abbott and Costello, with Bud Abbott.
In "Secondhand Spoke", Stewie gives Chris advice on how to handle bullies, pointing out that they are a team like "Owl and Costello." A cutaway gag depicts an owl responding to Abbott & Costello's signature comedy bit "Who's on First" by asking "Who?" to every question poised by Costello.
Costello is voiced by Seth MacFarlane.
Ad blocker interference detected!
Wikia is a free-to-use site that makes money from advertising. We have a modified experience for viewers using ad blockers

Wikia is not accessible if you've made further modifications. Remove the custom ad blocker rule(s) and the page will load as expected.