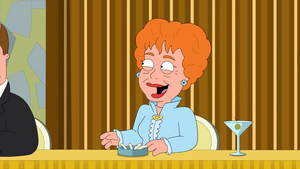 Lucille Désirée Ball (August 6, 1911 – April 26, 1989) was an American actress, comedian, model, and film studio executive, starring in numerous sitcoms such as I Love Lucy, The Lucy–Desi Comedy Hour, The Lucy Show, Here's Lucy, and Life with Lucy.
Herbert dreams of life with Chris as they watch I Love Lucy in "The Courtship of Stewie's Father".
Peter and Quagmire working the pill line in "Burning Down the Bayit" is a parody of the I Love Lucy episode "Job Switching" in which Lucy and Ethel Mertz work a conveyor belt of chocolates.
"Stewie Is Enceinte" is a reference to an episode of I Love Lucy titled "Lucy Is Enceinte" in which she revealed she was pregnant.
Lucy is a celebrity roaster for Sammy Davis, Jr. in a Dean Martin roast infomercial in "Roasted Guy" where she becomes the butt of a joke told by Dean.