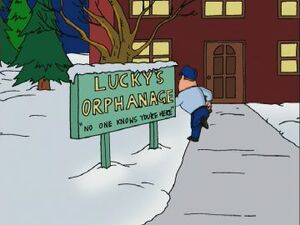 Lucky's Orphanage is the orphanage where Joe Swanson battles The Grinch during a robbery described by Joe in "A Hero Sits Next Door".
He falls from the roof but still manages to give a present to Little Orphan Timmy, a resident of the orphanage. The fall leaves Swanson with paralysis from the waist down and bad Christmas memories.
Ad blocker interference detected!
Wikia is a free-to-use site that makes money from advertising. We have a modified experience for viewers using ad blockers

Wikia is not accessible if you've made further modifications. Remove the custom ad blocker rule(s) and the page will load as expected.