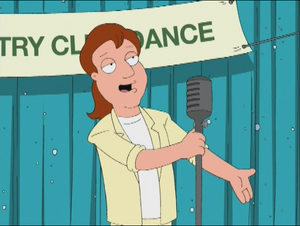 Luke Adams is an karaoke jockey based in Los Angeles, California. He is a friend of Seth MacFarlane's.
On Family Guy, he voiced Marvin Astley, the lead singer of the Newport Country Club Dance band, and sang "Earth Angel" in "Meet the Quagmires". He later called his cousin Rick about the "mediocre generic sound" he's been looking for.
He also has a voice credit for "Quagmire's Baby", and voiced the manager of Punch Drunk's Foxy Boxing Bar in "Baby, You Knock Me Out".
In Something, Something, Something, Dark Side, Darth Vader, played by Stewie Griffin, tries calling Adams using The Force, but ends up calling Luke Skywalker, played by Chris Griffin, instead.