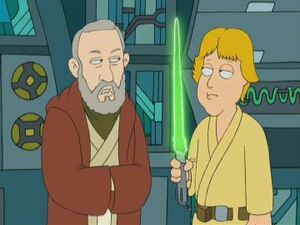 Luke Skywalker is the protagonist of the original Star Wars trilogy.
Skywalker is portrayed in all three films by Mark Hamill, who also reprised his role for "When You Wish Upon a Weinstein".
In "And the Wiener is...", an Imperial Stormtrooper is seen shooting a cardboard cutout of Skywalker.
In "When You Wish Upon a Weinstein", he is used by Lois Griffin as an example as to why laser eye surgery is so dangerous. Luke is shown holding his lightsaber above a woman about to perform the surgery. Obi-Wan Kenobi tells him to use the Force and after much complaining Luke does so and drives a hole through the woman's eye. Luke turns to Ben, asking him whether he was content with the results.
He also appeared in "Chick Cancer" embarrassing a rebel trooper by saying it was possible to shoot a proton torpedo into a two meter hole.
In Laugh It Up Fuzzball: The Family Guy Trilogy, comprised of Blue Harvest, Something, Something, Something, Dark Side, and It's A Trap! Luke is played by Chris Griffin.
In "Chick Cancer", he is voiced by Alec Sulkin.
External links
Ad blocker interference detected!
Wikia is a free-to-use site that makes money from advertising. We have a modified experience for viewers using ad blockers

Wikia is not accessible if you've made further modifications. Remove the custom ad blocker rule(s) and the page will load as expected.