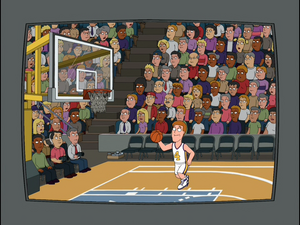 Luke Theodore Walton (born March 28, 1980) is an American professional basketball player for the Los Angeles Lakers of the National Basketball Association (NBA). He plays the small forward position. His father is NBA Hall of Famer Bill Walton.
Walton is the sole player left on the court during the NBA playoff game between the Los Angeles Lakers and the Denver Nuggets in the DVD cut of "Family Goy". Every other player from both teams have been arrested or suspended. Even though he has the court to himself, he still misses his shot.
Ad blocker interference detected!
Wikia is a free-to-use site that makes money from advertising. We have a modified experience for viewers using ad blockers

Wikia is not accessible if you've made further modifications. Remove the custom ad blocker rule(s) and the page will load as expected.