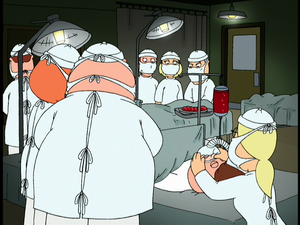 M*A*S*H is an American television series developed by Larry Gelbart, adapted from the 1970 feature film MASH which was itself based on the 1968 Richard Hooker novel MASH: A Novel About Three Army Doctors. The series is a medical drama/black comedy that was produced in association with 20th Century Fox Television for CBS. It follows a team of doctors and support staff stationed at the 4077th Mobile Army Surgical Hospital in Uijeongbu, South Korea, during the Korean War.
In "A Hero Sits Next Door", Peter Griffin is complaining about things he hates. Among them is the final years of the show when Alan Alda began directing and the show got all dramatic and preachy.
In "Fifteen Minutes of Shame", A cutaway shows one possible way to write Meg out of The Real Live Griffins. Brian, taking the part of Radar, announces to them that Meg Griffin's plane was shot down over the Sea of Japan, parodying Henry Blake's death on the show due to the departure of McLean Stevenson. Stewie then shows up in a dress and high-heeled shoes and says, "Who do I have to see about a Section 8?". In the series, Corporal Klingers once attempted to prove himself mentally unfit for military service.
In "The Thin White Line", when Peter is in rehab he is confronted by a nurse concerning his behavior, he responds with calling her "Hot Lips".
In the helicopter that Joe Swanson used to pursue the Griffins, the Asian co-pilot says that when he fires rockets, he always pretend he shooting at Alan Alda and Jamie Farr in "Breaking Out is Hard to Do".
In the "Stewie B. Goode" segment of Stewie Griffin: The Untold Story, Stewie gets drunk and starts blurting out the lyrics to "Suicide Is Painless", M*A*S*H's theme song.
Farr appears in the leg transplant how-to video doubling as anesthesia in "Believe It or Not, Joe's Walking on Air".
In It's A Trap!, the "A long time ago, in a galaxy far far away" is replaced with "A long time ago, after M*A*S*H but before AfterMASH". AfterMASH was the spinoff of M*A*S*H that aired for three seasons.
Peter's eating of a baby in "Killer Queen" parodies Alan Alda's Hawkeye strangling a baby in the final episode of M*A*S*H, "Goodbye, Farewell, and Amen".
Among the television shows featured in the background during Peter's introduction to ""Family Guy" Through the Years" is an image of M*A*S*H.