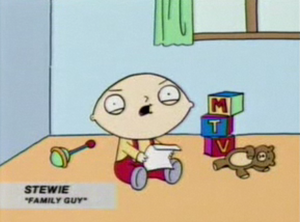 An MTV Video Music Award, commonly abbreviated as VMA, is an award presented by the cable channel MTV to honor the best in the music video medium, originally conceived as an alternative to the Grammy Awards.
Stewie appeared in a short clip on the 20th annual MTV Video Music Awards, insulting rapper 50 Cent. Stewie, with blocks spelling out "MTV", Rupert and a baby toy in the background, reads some words from the song "Wanksta" in a comical voice, then commenting: "Well, good luck finding the subject and predicate of that run-on sentence! And what the bloody hell does he mean, "we don't go nowhere without toast"? Now, you listen to me, Mr. Cent. If you want to make it in this business, lay off the doobie!". He then pulls out a previously concealed sign reading "Stewie for Governor".[1]
Ad blocker interference detected!
Wikia is a free-to-use site that makes money from advertising. We have a modified experience for viewers using ad blockers

Wikia is not accessible if you've made further modifications. Remove the custom ad blocker rule(s) and the page will load as expected.