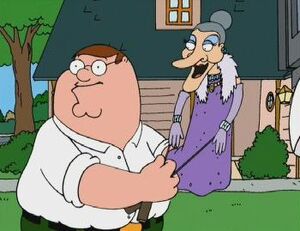 Wayland P. Flowers, Jr. (November 26, 1939–October 11, 1988) was an American puppeteer. He was born and raised in Dawson, Georgia. Flowers was best known for the ventriloquist act he created with his puppet Madame. His performances as "Wayland Flowers and Madame" were a major national success on stage and on screen in the 1970s and 1980s.
Trying to get the cameras on him in "Fifteen Minutes of Shame", Peter Griffin acts out a Wayland and Madame routine. He wants Madame to sing "The Rainbow Connection", sung by Kermit the Frog in The Muppet Movie.
Ad blocker interference detected!
Wikia is a free-to-use site that makes money from advertising. We have a modified experience for viewers using ad blockers

Wikia is not accessible if you've made further modifications. Remove the custom ad blocker rule(s) and the page will load as expected.