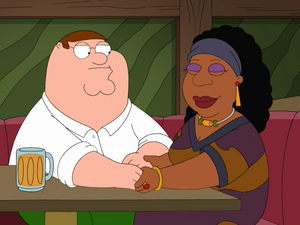 Madame Claude is Cleveland Brown's Jamaican cousin who appeared in "Peter's Progress". She is a psychic and thus can see people's past lives through palm reading. She told the quartet of friends about the history of Quahog, Rhode Island, pronouncing it as "kway-hogue". She is voiced by John Viener.
Ad blocker interference detected!
Wikia is a free-to-use site that makes money from advertising. We have a modified experience for viewers using ad blockers

Wikia is not accessible if you've made further modifications. Remove the custom ad blocker rule(s) and the page will load as expected.