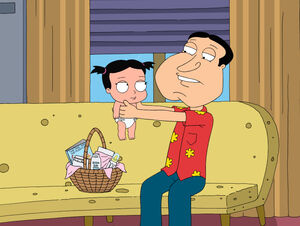 Mae Margaret Whitman (born June 9, 1988) is an American television, movie and voice actress. She is best known as the voice of Katara in the animated television series Avatar: The Last Airbender, American Dragon: Jake Long as Rose/Huntsgirl and the title character in the Tinker Bell movies.
She provides the voices of Anna Lee Quagmire in "Quagmire's Baby", Julie in "Go, Stewie, Go!", the little girl in Peter's Spanish soap opera in "The Giggity Wife", Kimi in "Take My Wife", as well as many voices in other episodes.
Ad blocker interference detected!
Wikia is a free-to-use site that makes money from advertising. We have a modified experience for viewers using ad blockers

Wikia is not accessible if you've made further modifications. Remove the custom ad blocker rule(s) and the page will load as expected.