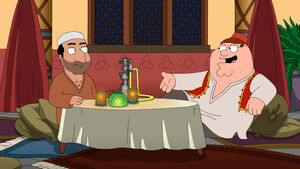 Mahmoud is a Muslim that Peter Griffin meets in the hospital after a skydiving accident in "Turban Cowboy". When Peter befriends Mamoud, he agrees to convert to Islam, but not without Quagmire and Joe becoming suspicious of Mahmoud's intentions and set out to break up the friendship.
Mahmoud invites Peter to a Muslim get-together but finds himself unwitting involved with terrorists intent on blowing up the Quahog Bridge. Peter realizes that he has been duped and wants to drop out but Joe convinces him to go along since he is already on the inside. As they go over the plan, Peter finds out that he will be driving the van but is caught when he reveals he is wearing a microphone. The guys hear as the bombing plan is rushed into action. Peter is held at gunpoint and forced to drive the explosives-laden van to the bridge. Peter tries to talk Mahmoud out of his plan but fails. Joe arrives in time to stop him and destroys the detonator by knocking it out of Mahmoud's hand.
Mahmoud is voiced by Omid Abtahi.