Home
Talk

122
4,842pages on
this wiki
Site Updates

News

What should I do?

Never been here before? Check out the Introduction page for a bit of information on how to get started here at Family Guy Wiki.


Go to Introduction

Want to help out the community? Head to Spooner Street to help see what various projects are in the works and what pages need help.


Go to Spooner Street

Editing Family Guy Wiki is easy, and requires no HTML knowledge. Instead, we use a simpler system supported by MediaWiki. Drop in and see how easy it is to use Family Guy Wiki.


Go to Sandbox to practice editing.

Brian's a Bad Father aired January 26th, 2014 at 9:00/8:00C on FOX


When Brian's neglected son Dylan shows up in town as a teen TV star, Brian jumps at the opportunity to be hired on the show's writing staff instead of being a good father. Meanwhile, after Peter accidentally shoots Quagmire on a hunting trip, the two friends clash and Joe must choose a side.

Grimm Job aired January 12th, 2014 at 9:00/8:00C on FOX


A collection of fairy tales are presented.

Watch The Latest Episodes Here



Upcoming Promo Images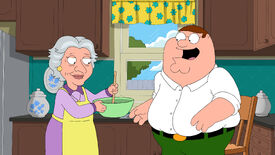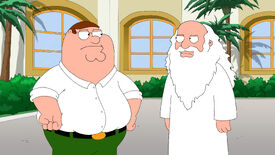 Mom's the Word airs March 9th, 2014 at 8:30/7:30C on FOX

After Peter's mother passes away, he forms a special friendship with her longtime pal, Evelyn, who attempts to seduce Peter. Meanwhile, Stewie is distraught when he understands the reality of death for the first time.
3 Acts of God airs March 16th, 2014 at 8:30/7:30C on FOX

Peter grows frustrated when players on opposing teams continue to thank God after defeating his beloved New England Patriots football team, so he and the guys embark on a global quest to find God and ask Him to stop interfering with the outcome of professional football games.