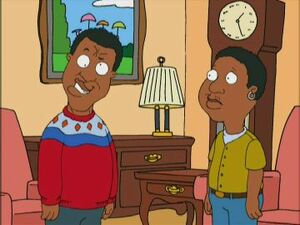 Malcolm-Jamal Warner (born August 18, 1970) is an American television actor, film director, and musician, known primarily for his roles in sitcoms, movies and television. He is best known for his role as Theo Huxtable on The Cosby Show.
He is seen as Theo in "Peter, Peter, Caviar Eater", in a scene revealing he has impregnated a girl, however his father is speaking nonsensically, not taking the situation seriously.
Tom Tucker reveals he appeared as a guest star on The Cosby Show in "Tom Tucker: The Man and His Dream".
The family watches The Cosby Show in "Peter's Sister", updated to show the entire cast and guest stars doped up after Bill Cosby's sex scandal became public.