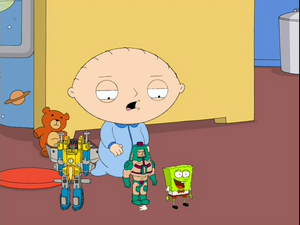 Man-E-Faces is a character and toy in the Masters of the Universe collection who can change his faces from a human's to a beast's to a robot's face. He also adopts the abilities and traits of the face he puts on.
He appears as a toy owned by Stewie Griffin. He was used in protection against the tooth fairy in "Prick Up Your Ears" along with Starscream and SpongeBob SquarePants.
Ad blocker interference detected!
Wikia is a free-to-use site that makes money from advertising. We have a modified experience for viewers using ad blockers

Wikia is not accessible if you've made further modifications. Remove the custom ad blocker rule(s) and the page will load as expected.