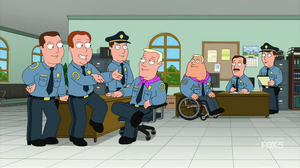 Manettii is a cop that works at Joe's department. When Joe admits he is shy about giving an opinion on fashion regarding Quagmire's shirts in "#JOLO", he admits he has been burned by fashion before. A flashback shows him arriving with a clothing and hair style that he soon discovers is being worn by Manettii already, causing Joe frustration.
Ad blocker interference detected!
Wikia is a free-to-use site that makes money from advertising. We have a modified experience for viewers using ad blockers

Wikia is not accessible if you've made further modifications. Remove the custom ad blocker rule(s) and the page will load as expected.