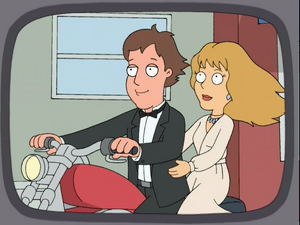 Mannequin is a 1987 romantic comedy film, starring Andrew McCarthy, Kim Cattrall, Meshach Taylor, James Spader, G. W. Bailey, and Estelle Getty. It was written and directed by Michael Gottlieb, and the original music score was composed by Sylvester Levay. The film is an unacknowledged remake of the 1948 film One Touch of Venus, starring Robert Walker and Ava Gardner.
In "Mother Tucker", Peter Griffin receives a videotape from Rachel Keller from The Ring, with the same warning as in the film. However, when Peter puts in the tape, it contains Mannequin. After a scene in the film shows the main characters, Peter is seen with his gaping mouth while laying down on the floor.
Ad blocker interference detected!
Wikia is a free-to-use site that makes money from advertising. We have a modified experience for viewers using ad blockers

Wikia is not accessible if you've made further modifications. Remove the custom ad blocker rule(s) and the page will load as expected.